The whole purpose of PolyRex is to optimize the 24- to 16-bit conversion process, trying to keep the loss of gain resolution to a minimum. By checking the 'Remove recording offsets' option, PolyRex will analyze the integer range of the recorded data in a first data scan, and subtract its mean, an estimate for the overall recording offset level, before integers are written to the 16-bit data file. As a result, only the actual recorded integer range has to be squeezed into the 16-bit integer integer. If the width of the recorded integer range is less than target integer range (i.e., 65,536 or less), no loss in gain resolution will occur. Leaving this option unchecked will convert the data as recorded, and will result in data saturation for integers outside the 16-bit range.
If data get saturated during the conversion process, PolyRex will indicate these as occurences of over- and underflow on the main form, and also in the log notes.
Checking the option 'Adjust break offsets at epoch intersections (recording on/off)' will exploit the information when data acquisition was turned off and on again within the same data file (BioSemi's ActiView acquisition software flags these events). Most likely, the overall recording EEG level has changed during the acquisition pause, resulting in sharp recording 'offsets' or 'jumps' within the recording. PolyRex will eliminate these 'break' offsets to further optimize data conversion.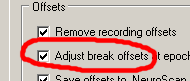 For most pratical EEG or ERP purposes, the overall recording level has no informational value. Nevertheless, these data can be stored in the header of the converted NeuroScan file, or written to an external ASCII file, if this information is needed.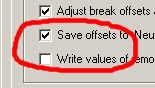 Unless the 'Adjust 24-bit integer range' option is checked under 'Gains', no attempt will be made to change the original integer values. The integer range slider below this option, together the edit fields 'Restric range to:' will set the target integer range. Although less the total 16-bit range of 65,535 will further limit the gain resolution, it may be advisable to avoid using the full range, as follow-up data processing (e.g., blink reduction, filtering, baseline correction) may result in data saturation (PolyRex uses 50% as the default).

There are three modes to compute a new gain: 1) 'Separately for each channel' will optimize the gain resoultion for each channels, but will most likely result in different gains across channels; 2) 'Across all included channels' will produce the same gain for each channel after determining the integer recording range across all channels;

and 3) 'Apply a fixed gain value' determined by the user.

Whereas options 1 and 2 guarantee that the recorded data stay within the conversion target range (unless bad channels are flagged), option 3 may result in data saturation (these occurences are reported in the log notes and indicated on the main form). [Note: Since version 1.1.3.7, PolyRex will compute and remove the median integer level from the converted data for option 3, as this will likely leave most of the 'good' recording periods within the target conversion range.]